Chinese Knot Necklace
$7.99 $5.99
Four Intersections!  This antique silvertone knot symbol is .75"L x .75"W and comes on a 16"L silvertone chain with a 1.5" extender. 
Note: Photos are enlarged to show detail, please refer to the dimensions in the product description before ordering.

What Is a Chinese Knot?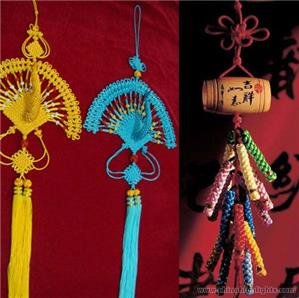 Several styles and colors of Chinese knots
It is known that there were used for artistic decoration and to symbolize and express thoughts and feelings in the Tang Dynasty era (618-907). The Tang Empire was a large one that covered most of regions of modern China, and the traditional art form was carried on by succeeding generations as part of their culture.

Even today, Chinese knots are rich in symbolic meaning, and they therefore hold sentimental value when given as gifts or passed down through families.
For example, in ancient times and even now, lovers may give a knot as a token of their love. The 'true love knot' and the 'double happiness knot' are given or used at weddings to express mutual love and growing old together in fidelity. Knots connoted love and marriage in Chinese culture.
Source: http://www.chinahighlights.com/travelguide/culture/knot.htm